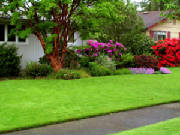 Our superior services set us apart, and they'll set your lawn apart, too. Your lawn means more to us. In fact, we promise to take better care of your lawn than anyone else, and we guarantee it. Regardless of your lawn type, we have a program that's ideal for your individual needs.

Whether you're interested in a Turf Plus lawn care program, or one of our many additional services, the results you get are a greener, more weed-free lawn faster with plenty of time to enjoy it.

We provide quality service to residential, industrial, and commercial clients in Maryland and Virginia. .
We are fully licensed and insured (MDA License No. 1335, MHIC License No. 15468).
Our services include:
Customized Lawn Care Programs
Underground Sprinkler Systems
Sprinkler Repair and Maintenance
Soil Analysis
Aeration and Seeding
We provide FREE ESTIMATES...give us a call or fill out the form on the Request an Estimate page.